About MacroPiX
MacroPiXSrl is an Italian company that develops, manufactures and sells LED displays. The company was established in 2014 by Luca Conti, Francesco Punis and Stefano Grasso. It all started from the founding members' twenty years of experience in the LED-display field and to date the company already features more than 1000 installations worldwide.
In-depth knowledge of technology and production processes, as well as high quality standards, are the pillars on which MacroPiX approach is based on when it comes to designing and manufacturing LED- based solutions. The company is well-equipped to handle even the most complex and wide-ranging projects, from simple shop displays through to industrial displays, from museums to theatres and from skyscraper facades to real art masterpieces, creating displays of any shape and size.
Manufacturing, Sales & Marketing Text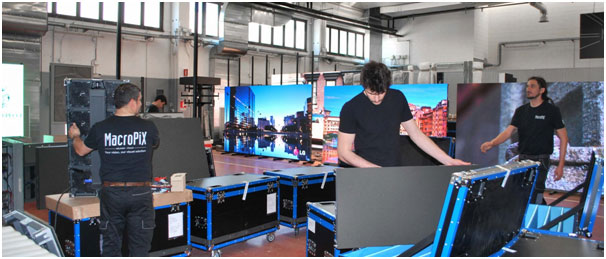 MacroPiX takes care of the final assembly of components and the testing of LED screens once completed. Final result of high quality, guaranteed and certified, coming from the passionate work of a team with decades of experience on the field.
The production partners are located in Italy, USA and China depending on the product requested, in terms of technical specifications and budget. From the headquarters in Italy the displays are then marketed all over the world, thanks to a widespread network of resellers, agents and technical assistance centres.
What Makes MacroPIX different
Experience and knowledge of the market
Proprietary technology
Network of partners, worldwide
Control over the entire production line
Selection of best components and suppliers
Promotion of unique products
Lex (logistics, certification etc.)
Engineering and customization
System integration
Special added-value services
Dedicated software
Dedicated hardware
Widespread presence in a globalized world
Design
The product differentiation is propelled by heavy and continuous investments in research and development, applied to electronic, electric and mechanical engineering. The project is every time managed from A to Z, with focus on selection of the best possible products/components and leverage on proprietary technology.
All LED screens and displays by Macropix are perceived as superior-quality products immediately after the delivery but the difference will be particularly noted time after time, in terms of duration, lifetime and reliability on one side and advertising space selling and business generation on the other side–the return of the investment is on the safest side.
Installation, maintenance
LED screens and displays are installed and maintenance guaranteed worldwide, with the support and expertise of skilled in-house staff and a network of partners on-site. The customer is accompanied at all stages of product use.
Apart from 24/7 telephone assistance, under-warranty or out-of-warranty interventions are planned and organized in the fastest possible time. This service can be provided for any kind of screens, also made by different manufacturers, taking them back to normal operation with available spare parts or after repairing/replacing broken components. Warranty can be extended or integrated with Contracts of Maintenance and Service Level Agreements.